The group of Vermont craftspeople who exhibit and sell their work at Vermont State Craft Center Galleries, and who teach classes at the Education Centers, is constantly changing. At the same time, each artist's own personal work and style is ever-evolving. This is part of the reason that every visit to a Vermont State Craft Center offers a unique experience.
Learn more about some of the talented artists and craftspeople who call Vermont home.

RIK ROLLA
Pottery
Shelburne, VT
Profile from Shelburne Craft School
Rik is the Shelburne Craft School's ceramics studio manager. He teaches kids clay on the wheel, adult classes and is the community outreach instructor for the Mobius Mentoring program. Read more.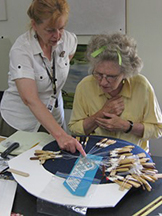 EVEYLN GANT
Fiber Arts
Profile from Fletcher Farm School
Evelyn Gant has been teaching and demonstrating fiber arts for over 30 years. She studied the art of bobbin lace with several internationally renowned teachers and has taught throughout New England. She has a loyal group of bobbin lace makers that return every year to Fletcher Farm School for her classes. Read more.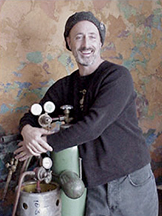 LOCHLIN SMITH
Metal Jewelry
Montpelier, VT
Profile from Artisans Hand
Lochlin Smith is an accomplished artist who has been designing distinctive and timeless bronze and silver wearable art jewelry for over 35 years. Each piece of Lochlin's sculptural jewelry is created in bronze, which is hand worked employing a variety of techniques. Lochlin then uses a palette of rich surface finishes. Read more.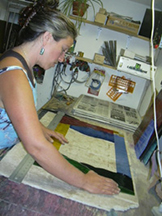 TERRY ZIGMUND
Glass
Burlington, VT
Profile from Frog Hollow
Terry Zigmund is fascinated by glass as a medium for its dualities. It is strong yet fragile, solid yet molecularly unstable. What other artistic medium can an artist work with in its liquid and solid form? Read more.

MARY AZARIAN
Handmade Block Prints
Plainfield, VT
Profile from Artisans Hand
Mary began drawing and painting at an early age and fell in love with woodcuts when she did her first relief print in the fourth grade. After college she began to work on wood and has never lost her enthusiasm for the medium. Read more.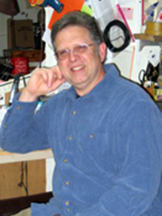 DAVID EPSTEIN
Jewelry
Hinesburg, VT
Profile from Frog Hollow
Since establishing his workshop in 1973, David has been designing and creating jewelry for 29 years. Inspired by the natural beauty that surrounds his hillside studio, he designs pieces that reflect the harmony and elegance of the natural world. Read more.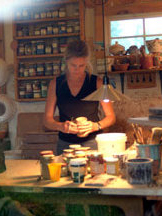 LESLIE KOEHLER
Pottery
Marshfield, VT
Profile from Gallery at the Vault
Leslie Koehler has been a professional potter for twenty years. Her studio is located in Marshfield, Vermont, on a beautiful country road and nestled deep in the hills of the Green Mountains.  Each piece of her Majolica-style pottery is unique, hand-thrown and hand-painted. Read more.